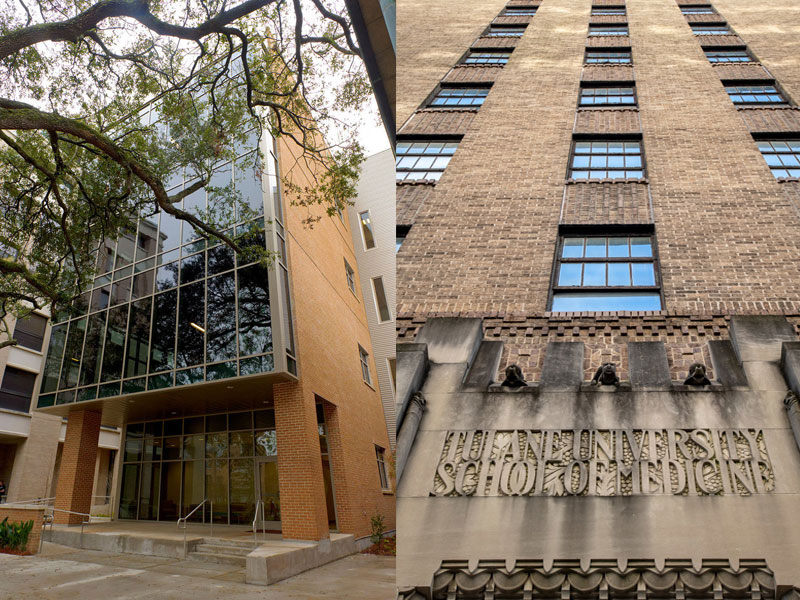 The Tulane Brain Institute, founded in 2016, builds upon the over 30 years of success of the Tulane Neuroscience Program. The University-wide Brain Institute was created as a transdisciplinary entity to coordinate and oversee neuroscience-related endeavors at Tulane and brings together faculty from across the University including from the Main Campus, the Health Sciences Campus, and the Tulane National Primate Research Center. The three pillars of the Tulane Brain Institute are research, education and training, and community outreach and engagement.
Research at the Tulane Brain Institute is centered on the creation of neuroscience research groups or communities developed around four key research themes  that are based on current and emerging research strengths of our faculty. Each research group, made up of faculty, postdocs, and students from the undergraduate to PhD levels, is supported by the Brain Institute through investment in programmatic initiatives and physical infrastructure. Our vision is to create hubs of research excellence in the brain sciences at Tulane along our research themes. New facilities for the Brain Institute are currently being built at the state-of-the-art Donna and Paul Flower Hall for Research and Innovation on the Tulane's Main Campus and at the newly renovated J. Bennett Johnston Building on the Health Sciences Campus.
Education and training at the Tulane Brain Institute is coordinated by the interdisciplinary Tulane Neuroscience Program. The Tulane Neuroscience Program consists of a nationally recognized undergraduate major in Neuroscience as well as large and successful Neuroscience graduate programs at the Master's and PhD levels. Brain Institute faculty from across all campuses of the University are activity engaged in the training of our students. Undergraduates work along side Master's and PhD students in faculty labs at the School of Medicine, on the Main Campus and at the Tulane National Primate Center. The Brain Institute is committed to the integration of education and training with research at all levels.
Community outreach and engagement includes large and active programs involving Brain Institute faculty, postdocs, and Neuroscience Program students. Activities include Brain Awareness Week outreach programs in the community, participation in GIST –Girls in STEM at Tulane, and the Tulane Science Scholars Program. The student-run Tulane University Neuroscience Association, or TUNA, engages the community in a variety of outreach activities throughout the academic year. The Brain Institute proudly supports the Tulane Stroke Survivors Support Group.
Our vision is to create a new era of discovery, learning, and public influence in the brain sciences at Tulane.