2023
Library Brain Demonstration Day (GNOSfN Collaboration)
Saturday, March 18 1pm-4pm
We're looking for volunteers to help with brain awareness week activities at the NOLA Public Library.  This event is in collaboration with the Greater New Orleans Society for Neuroscience. More information to follow. 
Greater New Orleans Area Science and Engineering Fair:
Tuesday, February 28
As part of the Greater New Orleans Area Science and Engineering Fair, the Tulane Brain Institute is sponsoring a special award for Best Experiment in Neuroscience.  We're looking for 4 to 5 volunteers (undergraduates, grad students, post-docs and/or faculty) to judge the neuroscience themed projects for the Greater New Orleans Science Fair.  The judging for the special neuroscience award will be done remotely via review of documents in a shared Box drive and a single 1 hour zoom meeting.
Please contact Liz Engler-Chiurazzi for more information if you are interested in serving as a general poster judge at the event (Feb 28, Mar 1 and Mar 2)
Y'all Stars Roller Derby
Sunday, February 26 - Warren J. Harang Jr Municipal Auditorium, Thibodaux
We're looking for volunteers to host a table where we will be conducting fun activities such as the egg-brain helmet and engaging with the community about brain safety
2022
Walk to End Alzheimer's.
Saturday, October 29, 2022 - Lafreniere Park in Metairie. 
Tulane Brain Institute will be sponsoring the Walk to End Alzheimer's
2020
DUNK Meeting
Friday, May 22, 2020

9:30 AM

Zoom

There will be two 20 minute presentations from the Galazo Lab by Xiao Han & Lee Vaasjo
Brain Awareness Week - March 16 - 20, 2020
CANCELLED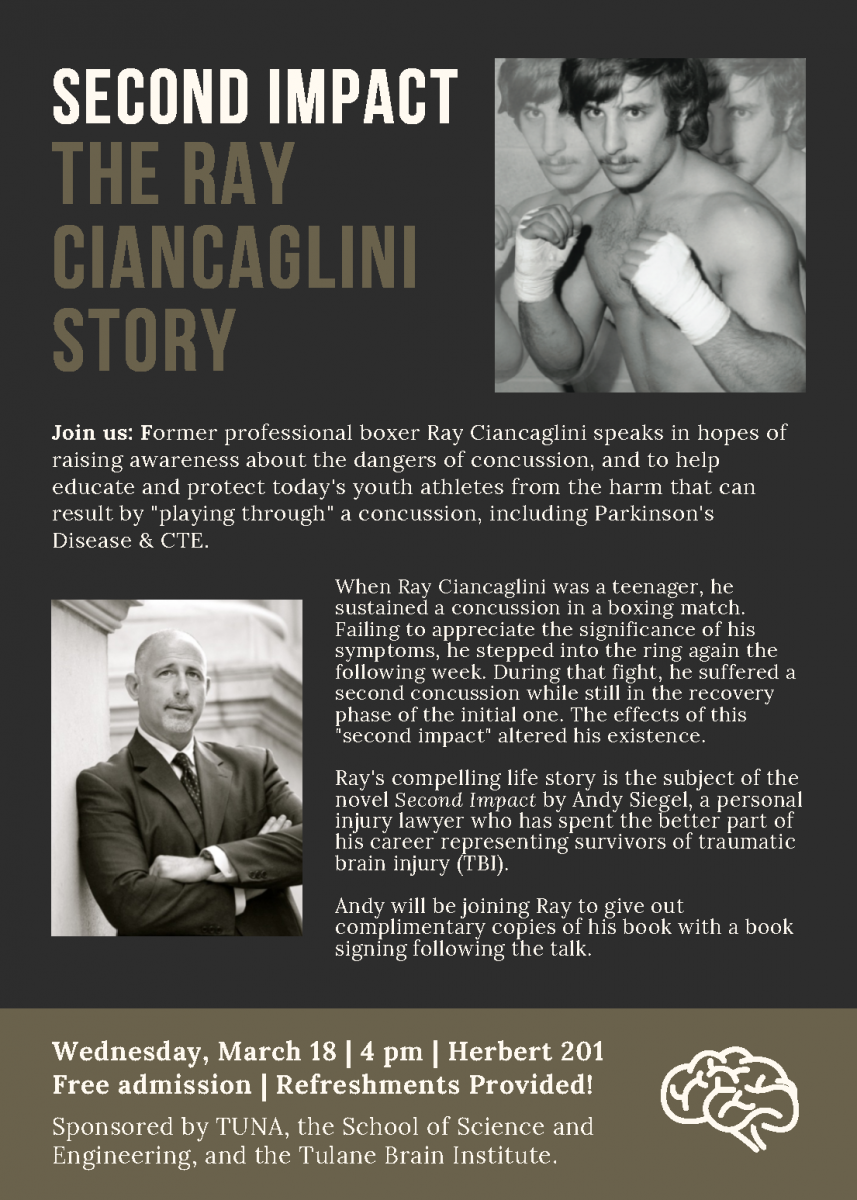 Wednesday, March 18, 2020

4:00 PM

Herbert 201

Reception to Follow

Free Admission
Weekly Brain Institute Seminar
Wednesdays at 4pm
For more information about our weekly speakers, please visit our seminar series page.
Second Annual Tulane Brain Institute
Distinguished Lecture
Wednesday, January 15, 2020 | 4:00 PM

Kendall Cram Lecture Hall
Join us for Aging, Memory, and the Brain, the Annual Tulane Brain Institute Distinguished Lecture featuring Carol Barnes,PhD.
Dr. Barnes is a Regents Professor in Psychology, Neurology and Neuroscience and a Chair for Learning and Memory Aging at the University of Arizona's Evelyn F. McKnight Brain Institute.
Wednesday, January 15, 2020

4:00PM

Reception to Follow


Kendall Cram Lecture Hall

Lavin - Bernick Center for University Life

Tulane University

6823 St. Charles Avenue

New Orleans, LA 70118